1500 Series Deck Stain is the new TWP formula that is specially designed to penetrate better, dry more rapidly and give better results that the former TWP 500 Series Deck Sealer.
TWP 1500 Series EPA registered deck stain is a wood preservative which helps to prevent structural harm and wood rot on all exterior wood surfaces. For both treated or previously treated above ground wood surfaces such as decks, fences, wood siding, roofs and log homes.
TWP 1500 Series Formula prevents wood cracking, warping, splitting and freeze damage in colder climates by locking out unwanted water and moisture.
TWP 1500 Wood Stain is a VOC compliant preservative with unique U.V. trapping pigments that help prevent wood graying, fading, and discoloring. The special blend of mildewcides aid in the prevention of mold and mildew spores which cause rot, decay and failure of wood surfaces.
TWP 1500 Series Wood Sealer will increase the longevity, beauty, and integrity of all your exterior wood surfaces. With the easy to apply and maintain formula, you'll be able to enjoy your investment for years.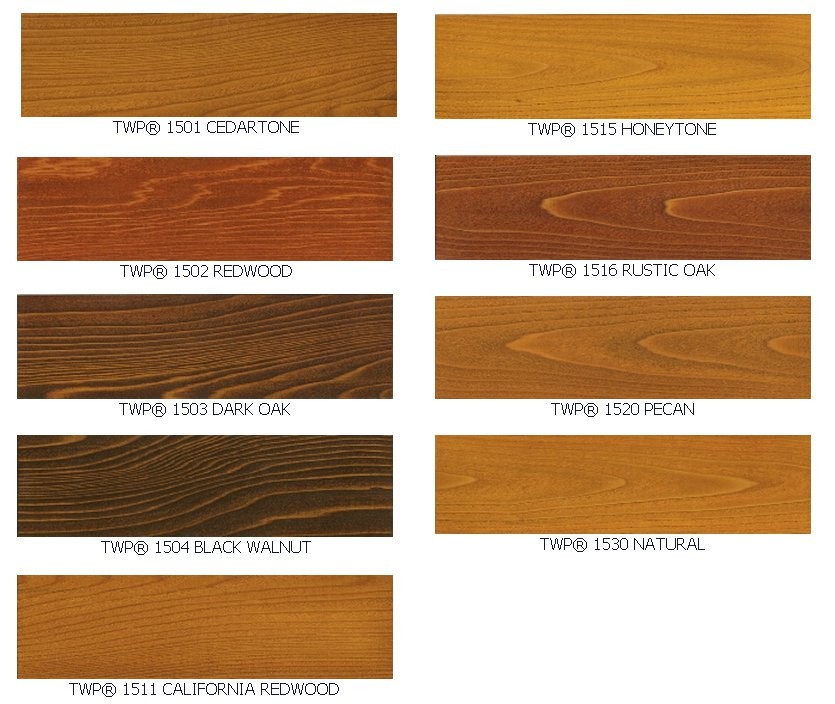 Key Advantages
Preserves wood and its natural color
9 Pre-mixed semi-transparent colors and Clear (Clear does not offer UV Protection)
EPA registered wood preserving formula
Professional's choice in exterior wood maintenance
Semi-transparent stain protects and enhances wood
Locks out water and moisture longer
Stops mold and mildew from forming
Designed to prevent wood rot
Formulated for easy application and maintenance
Prevents wood from becoming warped, cracked and split
Low VOC preservative compliant in 50 states
TWP is a registered trademark of Amteco Inc.