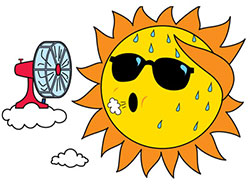 Restore-a-Deck Wood Stains can be applied to damp or dry wood but is best applied to damp wood. Easier and will avoid potential Hot Sun Application Issues.
Hot Sun Stain Application Potential Issues
Before you start your wood stain project, ensure your temperature conditions are optimal for best results. The air temperature should be between 45 degrees F and 90 degrees F. Check the weather forecast and do not start the staining process if the temperature is expected to drop below 45 degrees or if rain is a possibility in the next 12 hours.
If applying the Restore-A-Deck Wood Stain in full sun we suggest that you apply to a damp deck. Either 1-2 hours after prep or if the wood is already dry, lightly mist the deck with water prior to applying. Make sure all standing water/puddles are gone before applying the RAD stain.
Why do this?
The surface temperature of wood in full sun can be 20-50 degrees higher than air temperature.
The Restore-A-Deck Stain will be much easier to apply damp wood.
Applying to damp wood will help avoid "flash" drying of the stain in full sun. This will allow the Restore-A-Deck Wood Stain to properly penetrate the wood grain as it dries and avoiding any potential issues.
Applying the Restore-A-Deck Stain on overcast days, mornings, or afternoons will also help to avoid potential full sun application issues.
Make sure you mix Restore-A-Deck wood stain well initially and periodically throughout the staining project. Protect all non-target surfaces with cardboard or drop cloths. For equipment, you can use the Restore-A-Deck Stain Brush (if using the RAD Semi-Transparent Stains), hand brushes, or staining pads to apply. Apply the stain to vertical surfaces such as railings or posts first and protect the horizontal surfaces from the excess stain. Apply stain to the full length of the board, making sure to not break in the middle of the board.

Restore A Deck Stain Application Tips
We recommend allowing the surface to dry for 24 hours before walking or placing furniture on the surface.
Have you completed the Restore-A-Deck 3 step process in one day? Any tips we are missing? We want to hear your reviews. Be sure to comment with any photos and let us know how the project is holding up over time.