RAD™ PaintStrip & Solid Wood Stain Stripping Gel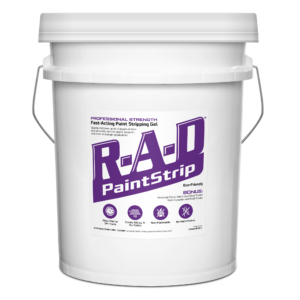 R-A-D™ PaintStrip is the right choice for almost any paint or solid stain stripping project. R-A-D™ PaintStrip is eco-friendly, works fast (starts working within 5 minutes), and removes up to 5 layers of most paints in 30-45 minutes, and up to 15 layers in 24 hours. R-A-D™ PaintStrip stays wet for 24+ hours, allowing you to strip larger areas without having to reapply.
Note: Our regular stain stripper, Restore-A-Deck Stain Stripper will remove 80-90% of all exterior and wood and deck stains. It does have its limitations with certain coating types and is the reason we have introduced R-A-D™ PaintStrip.
When Should You Use RAD™ PaintStrip on Wood Decks
R-A-D™ PaintStrip is best used when removing any extremely thick coatings like paint or solid stains. If you have a coating that is non-transparent and peeling, then the R-A-D™ PaintStrip is the right choice for you. Much easier than power sanding or grinding to remove these coating types.
Examples of Wood Coatings R-A-D™ PaintStrip Removes
Solid Color Wood Stains, Paints, Varnishes
Excessively Over-Applied Semi-Transparent and Semi-Solid Coatings
Filming Acrylic Wood Stain Coatings such as Behr Wood Stains, Thompsons, Olympic, SuperDeck, Benjamin Moore ArborCoat, Valspar, PPG/Pittsburgh, and any other exterior wood and deck stains
R-A-D™ PaintStrip Deck Paint and Wood Coating Advantages
PROFESSlONAL STRENGTH Fast-Acting Paint Stripping Gel
Removes up to 15 layers of latex and oil paints, varnish, stains, lacquers, and more in a single application
Stays Wet for 24+ Hours for Difficult Stripping Projects
No Need to Neutralize with Restore-A-Deck Wood Brightener
Eco-Friendly, Non-Flammable & No Harsh Fumes
Safe to use on all exterior wood surfaces, not just decks
Coverage: 100 sq. feet per gallon
Have Questions on Stripping Your Stain or Paint?
Ask below in the comment section. Please include any on the brand that was used and the type of stain. Pictures will help as well.