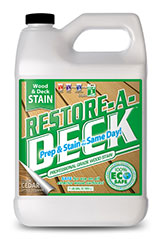 When working with newly installed wood and decking surfaces, the Restore-A-Deck Wood Stain is ideal after 3-6 months of natural weathering. Restore-A-Deck Wood Stain's long-lasting composition works hard to absorb quickly and penetrate deep into the wood grain to withstand the elements and stay true to its beautiful finish long after the staining project is complete.
Before beginning the staining process, it is recommended that new wood surfaces be installed 3-6 months before prepping and staining. To prep new wood surfaces after the waiting period, use Restore-A-Deck Cleaner. It's concentrated powder formula is cost-effective, easy to transport, and especially good at removing dirt, grime, mold, and mildew that is prone to showing up on new wood surfaces.
Note: Kiln dried and KDAT wood still needs to weather after install. About 1-2 months. Rough sawn cut wood does not need to weather.
After the new wood has been cleaned, the wood will appear slightly darker. To restore the wood and neutralize the pH, use Restore-A-Deck Brightener to lighten it to its original appearance. The RAD Wood Brightener further opens the wood pores for an ideal surface to apply Restore-A-Deck Wood Stain.
Following Restore-A-Deck Wood Brightener, continue with Restore-A-Deck Wood Stain. Unlike other brands of wood stain, Restore-A-Deck's formula can be applied to wood surfaces following the Brightener on the same day on damp wood or can be applied to dry wood on following days. If applying to damp wood, it is recommended to allow the wood to dry 2-4 hours after prep is complete.
Only 1 coat should be applied to new wood that is less than 9 months old for the RAD semi-transparent stain. A light maintenance coat of the RAD semi-transparent stain should be applied 12-18 months after the first coat was applied. Every 2-3 years after that is normal.
For the RAD Solid Color Stain, apply 2 coats. Reapply as needed down the road.
Restore A Deck Stain Application Tips
If you have any questions, please comment below.