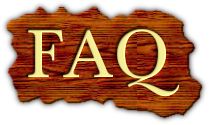 Question: What type of wood is Restore-A-Deck used on?
Answer: Restore-A-Deck is safe for all wood types including pressure-treated pine, cedar, redwood, ipe, and mahogany.
Question: What is in Restore-A-Deck?
Answer: The majority ingredient in the cleaning formula is sodium percarbonate. This is the one recommended by the Western Red Cedar Lumber Association. There is also a blend of proprietary detergents that makes the cleaner work faster and more powerful than just straight sodium percarbonate cleaners. The Restore-A-Deck brightener is a blend of mild acids that is much less harsh on your wood than the straight oxalic acid. These formulas are the exact formulas we use professionally to clean and maintain decks every day. There is nothing comparable on the homeowner market.
Question: Is your product just for wood that has already been stained? My deck was just built.
Answer: Restore-A-Deck can be used for maintenance cleaning, mild stripping, or to prepare new wood for sealer. For general cleaning, you would not allow the product to sit (dwell) for a long time before rinsing. For a more aggressive action, you would let the product dwell for a longer period.

Question: How does the cost of your product compare to what I can get at my home center?
Answer: Here is the best part, it's not only of much higher quality and more effective but in terms of time invested and harshness it's cheaper. By focusing on product development, we are able to offer a product that works effectively and does not cause the long term damage of bleach and soap cleaners. We are not shy in saying our product is the best out there for the money. Our smallest kit makes 5 gallons of cleaner and another 5 gallons of brightener. Your cost is about 5 cents per square foot.
Question: Is your product safe for the environment? I don't like the idea of chemicals on my deck or in my soil.
Answer: Restore-A-Deck is less abrasive to the wood than most of the products on the consumer market. Its primary ingredient is also found in OxyClean™. There are other proprietary chemicals in the formula, but all of them, once diluted with rinsing, meet all E.P.A standards for disposal and will safely drain into the soil without affecting the soil pH balance. As with the use of any type of detergent, please read the safety precautions page.
Question: Can't I just use bleach and dish liquid on my deck?
Answer: We do not recommend you use bleach (sodium hypochlorite) on your deck. Bleach attacks the lignin in wood. Lignin is the glue that binds wood fibers together. Without enough lignin in place, wood begins to break down more quickly. In addition, bleach imparts an unnatural whitening to the wood. This shows up very prominently when you apply a pigmented sealer as blotchiness. Every lumber association recommends against the using of bleach yet 90% of cleaning products available at your local home center contain bleach.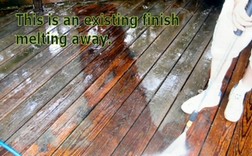 Question: Why use any chemicals at all? Isn't using a pressure washer by itself good enough to do the job?
Answer: In order for a pressure washer to adequately clean wood, you would need to use extreme pressure at the surface. This causes the wood to split and the grain to raise, both causing the surface to become unpleasant to walk upon. Using a proper detergent like Restore-A-Deck eliminates the need for highly pressurized water hitting the deck. You wouldn't take a shower without using soap or shampoo, nor would you wash your dishes with just water. The detergent does the cleaning, the water acts as the rinse.
Question: Do I need to use a pressure washer if I'm using Restore-A-Deck?
Answer: While initially, we wanted a product that would not need the added scrubbing action of a pressure washer, we feel it is safer to recommend one be used but with proper technique. In many cases, Restore-A-Deck will work it's magic and can be rinsed using some brushing and garden hose pressure. We have included a more detailed explanation page on proper pressure washer usage here.

Question: What is included in the kit. What additional tools do I need?
Answer: Your kit will include a container of the cleaning agent, a container of the brightening agent and detailed instructions. You will also need at least one pump up 3-gallon sprayer (we recommend two), safety goggles, and PVC gloves. Optional equipment may include a pressure washer and moisture meter.
Question: I used Restore-A-Deck, and it looks great! Now I want to protect the beauty and protect it from the elements. What do you recommend?
Answer: Use the Restore-A-Deck stain in a semi-transparent color for UV protection and to enhance the natural grain of the wood.

Question: I have leftover materials from your kit, should I throw them away?
Answer: No way. Restore-A-Deck's cleaner is excellent for cleaning vinyl patio furniture, garage floors, house washing, you name it. The only time we recommend caution is around colorfast material. The brightener in your kit is also excellent for removing rust stains from concrete. Restore-A-Deck's materials have a shelf life of one year if kept sealed and dry.
Restore-A-Deck will not remove paint or solid stain.