TWP 100 Series Stain and Preservative is Rated the #1 Wood Stain/Sealer By Contractors
TWP 100 Total Wood Protectant Deck Stain protects and maintains all exterior wooden surfaces. TWP 100 is a special blend of chemicals in a contractor grade formula that safeguards and protects exterior wooden surfaces.
TWP 100 locks out water and moisture that causes wood to crack, split, and warp. Freeze damage is also prevented in cold climates.
TWP 100 Pro Series Deck and Fence Stain Protects against U.V. Damage – Specialty absorbers prevent U.V. wood graying, discoloring, and weather fading. Wood is preserved for a long-lasting finish.
TWP Total Wood Protection against Wood Decay – Wood preservatives prevent wood structural damage and rot for above ground surfaces. Most essential on non-treated exterior wood surfaces.
TWP 100 Preservative is Mold and Mildew Resistant – Specially formulated mildewcides hinder the growth of discoloring causing mold and mildew.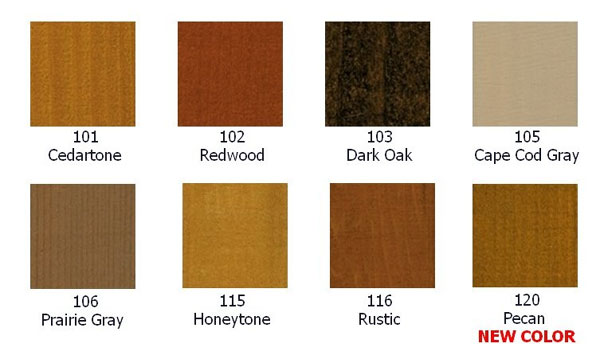 Available in 6 Colors and Clear (Clear does not offer UV Protection)
Far better longevity on both horizontal and vertical surfaces.
TWP is not a film former but a penetrating stain that will not peel.
Top rated professional choice for any exterior wood surface.
Semi-transparent formula enhances natural wood color.
Repels moisture and water absorption.
Excellent color retention
Coverage:
TWP 100 Stain can be expected to cover about 150-200 sq ft per gallon depending on wood porosity and age.
For maximum protection two "wet on wet" coats are recommended. TWP stain products must get full penetration for optimal results.