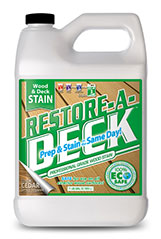 We are honored to review Restore-A-Deck Professional Grade Semi-Transparent Wood Stain, the first and only deck stain of it's kind. For the first time, a deck stain can be applied to damp wood, allowing your entire wood restoration project to be completed in just one day.
Everyone is busy. Dedicating more than one day to restoring your wood deck may simply be out of the question. No longer do you have to apply over the course of two days. This way, there is less of a chance for external elements to take a toll on the finished product.
Can be used for all your exterior wood surface projects, anywhere that could benefit from staining. Includes but is not limited to: decks, fences, siding, patio furniture, gazebos, and playground equipment. Not only can the stain be applied the same day after wood brightener, but the formula penetrates deep into the wood grain for beautiful long-lasting results. The product dries true to it's color to a flat, natural-looking finish, available in 4 semi-transparent colors: Natural, Cedar, Light Walnut, and Dark Walnut.
Additional advantages include:
Eco-Safe formula
Water-based formula allows for easy cleanup
Easily reapplied as needed
Easily removed if needed
Discourages growth of mold/mildew
Low VOC content, compliant with standards in all 50 US states and Canada
After reading other deck stain reviews about your own projects, we are looking forward to hearing what you have to say about Restore-A-Deck Wood Stain. After you apply it, write us a Restore A Deck Stain Review that includes:
Ease of application for Restore-A-Deck Semi-Transparent Wood Stain
The durability of Restore-A-Deck Semi-Transparent Wood Stain
The overall appearance of Restore-A-Deck Semi-Transparent Wood Stain after the job is completed
Restore A Deck Semi-Transparent Wood Stain Application Tips