Deck Cleaners | Wood Stains Sealers | Maintenance | Sealing Restoring Decks
The Secrets To Successful Deck Cleaning and Staining

• Tired of cleanin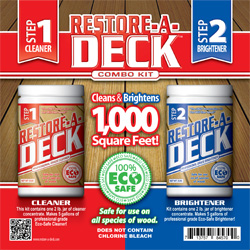 g and staining your deck year after year?
The secret for a longer lasting finish is to use the products professional wood restoration contractors use. Restore-A-Deck has made these sealers, cleaners and tools available to the public.

• If your wooden deck looks terrible no matter what you try..
We can help with step-by-step directions and FREE how-to advice. There are techniques to make a finish look good and last. Once you learn the secrets from the pros and use the right cleaners and high quality deck stains, you'll be able to enjoy your deck more and slave over it less.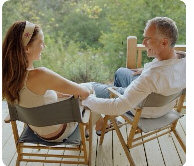 Do-It-Yourself Deck Maintenance
We can walk you through it step by step

The true enjoyment comes when you open your door and step onto a finished wood surface where you can barbecue, throw a party or have a safe place for the kids to play. It is the steps to get there, the actual cleaning and staining, that can be cumbersome. It really comes down to using the right cleaners and stains to make the project easier to tackle yourself. On our forum you can ask any questions you may have and an expert will help you with your particular situation.
4 Myths About Deck Cleaning and Staining

Myth #1: Cleaning and staining a deck is not something I can do myself.
While it is true the restoration process can be labor intensive, what makes it more difficult is using the substandard products available at most home centers. Deck cleaning should be performed as a two step process. Read more about how professionals perform deck cleaning.
Myth #2: Decks have to be stained every year to stay looking good.
For most wood species this again boils down to performing the proper prep and using quality deck staining products. Certain types of wood will need to have yearly maintenance performed on them. These decks include hardwood varieties such as ipe (ironwood), garapa gold, massaranduba, mahogany, and purple heart among others. For these exotic woods we offer Woodrich Hardwood Wiping Stain premium formulation hardwood stain and seal.
Myth #3:

You need a pressure washer to properly clean and prep.


While a pressure washer is a great tool to speed the cleaning of your wood project, Restore-A-Deck is designed to use with a simple deck brush and garden hose. If you own or have access to a power washer, read some pressure washing tips here.
Myth #4: New construction does not need to be cleaned before staining.
When a deck undergoes construction it is subjected to dirty feet as well as exposure to mold spores. In addition there is often a phenomenon known as mill glaze which will prevent deck stains from penetrating the wood. A two step cleaning process is as crucial to new construction as it is to older, graying decks.

A Quick Word About RAD's 2 Step Deck Cleaner



For years commercially available deck maintenance products have contained little more than bleach and a little soap. Restoration contractors have known for awhile that bleach is not the best thing to put onto untreated wood. After being asked often by DIY enhtusiasts what are the best cleaners to perform a restoration or new construction prep, we decided to share the secrets of the professionals. We hope you will join the hundreds of satisfied customers that have given Restore-A-Deck™ and Woodrich Hardwood Wiping Stain rave reviews. Product Page
How Can A Deck Cleaner Make a Difference?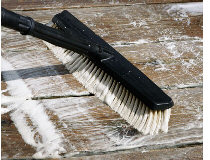 Faster Cleaning:

You have better things to do with your time. Restore- A- Deck cleaners make the job go much quicker for you.
Bring life back to older, gray wood decks
Get rid of mold, mildew and dirt.
Prep new construction for stain.
Remove failing stain from your wood.
(R-A-D) will not remove solid or acrylic stains.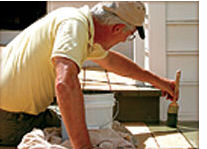 Staining and Sealing Less Often: The deck cleaners in R-A-D are of the highest quality. A state-of-the-art, two step wood cleaning process will give you results you never thought possible. Our products are also environmentally as well as landscape friendly.
Bigger Savings: R-A-D is a concentrate. Why pay shipping and handling on fillers? You can use up to four times as much OxyClean™ and still not get the cleaning power in R-A-D ! Our products were developed by deck cleaning and restoration specialists with special buffers and surfactants to make them gentle yet effective.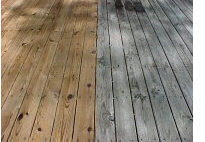 The Results Speak For Themselves

This picture of half finished floor boards dramatizes the results you can achieve with a two step cleaning process.

Read more about the terminology of deck stains versus sealer, how to apply products and how to choose sealing products for exterior wood in our Newsletter section. Sign up to receive updates on new products. We will never share your email adress nor load your inbox with useless articles.
Step-by-step technique to properly prepare wood for staining

Deck Cleaning Reviews and Tips
Strip and Brighten the Wood Deck
Strip and Brighten? What is Best Prep? When it comes to deck restoration and maintenance it is important to know that in order to get good results the wood must be prepped correctly. When a deck stain fails prematurely it can normally be associated with incorrect or lack of wood prep work prior to the stain being applied. Any research on deck restoration will reveal that you need to remove any ol [ ... ]
+ Full Story
Restore A Deck Stain Stripper Review
During deck or wood maintenance it is important to prep the wood correctly so the new stain you apply can perform as expected. Any old failing stain that may be left on the wood may end up causing the new stain to peel, flake, and fail prematurely. There is no need to hinder the performance of a new deck stain by leaving remnants of old stain on the wood surface. This is easily remedied by using a [ ... ]
+ Full Story
Restore A Deck Cleaning Kits Review
Restore A Deck Kits Review In the past, cleaning and prepping a wood surface was difficult. With any research you may have found information about cleaners, strippers, brighteners, and neutralizers. This can be confusing for anybody but it is also necessary for getting good results. After all, the number one reason a new deck stain fails prematurely is because the wood was not prepped correctly i [ ... ]
+ Full Story
Deck Cleaner Powders
Restore-A-Deck Cleaner Powder Advantages It is no secret that the elements can play havoc on a wooden deck. When a deck is neglected it can become an eyesore in a relatively short time. Water damage causes cracks and splits boards while harsh UV rays turn the wood fibers gray making the whole deck very unsightly. To protect a wood deck from Mother Nature regular maintenance is necessary. Cleanin [ ... ]
+ Full Story