Deck Cleaning Reviews and Tips
How to Restore-A-Deck in one day
Restore-A-Deck's three-step process makes it possible to complete a wood staining project in a single day. The stain is safe to apply on damp wood, perfect for those who are busy and want to achieve same-day results for their exterior wood staining projects.
Here's a rundown of Restore-A-Deck's three-step process, it's components, and how they work together to produce an immaculately stained wood surface.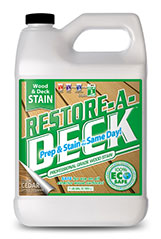 We are honored to review Restore-A-Deck Professional Grade Wood Stain, the first and only deck stain of it's kind. For the first time, a deck stain can be applied to damp wood, allowing your entire wood restoration project to be completed in just one day.
Everyone is busy. Dedicating more than one day to restoring your wood deck may simply be out of the question. No longer do you have to apply over the course of two days. This way, there is less of a chance for external elements to take a toll on the finished product.
Can be used for all your exterior wood surface projects, anywhere that could benefit from staining. Includes but is not limited to: decks, fences, siding, patio furniture, gazebos, and playground equipment. Not only can the stain be applied the same day after wood brightener, but the formula penetrates deep into the wood grain for beautiful long-lasting results. The product dries true to it's color to a flat, natural-looking finish, available in 4 semi-transparent colors: Natural, Cedar, Light Walnut, and Dark Walnut.
Restore-A-Deck Wood and Deck Restoration Photos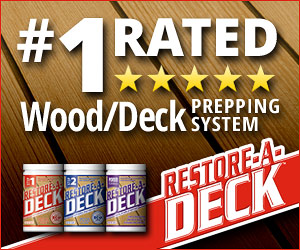 We would love for our customers to post some pictures that are finished with the Restore-A-Deck prepping products and any exterior wood stain. Please include a short description and the Restore-A-Deck product(s) used to prep the wood and to stain the wood using our comment feature at the bottom. There is a link to upload photos in the bottom right corner of the comment area.
We look forward to seeing your newly Restore-A-Deck project!
Please include:
Location of Project (City/State):
Stain Brand Used:
Restore-A-Deck Prepping Method:
The color of Stain:
The number of Coats Applied:
Wood Type and Age:
When using wood restoration and maintenance products like the line of RAD (Restore-A-Deck) cleaners it is important to know how to apply them. One way to apply RAD products like the wood cleaner, wood brightener, or stain stripper is by the use of a pump sprayer. When using a pump sprayer for application be sure to premix the solution in a bucket first before transferring to the sprayer. This will help ensure proper blending.
Read more: Can RAD Products Be Injected Through Pressure a Washer?