Deck Cleaning Reviews and Tips
Restore-A-Deck Wood and Deck Restoration Photos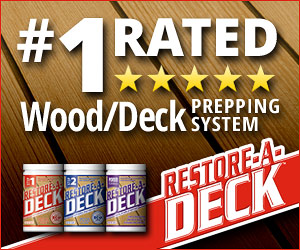 We would love for our customers to post some pictures that are finished with the Restore-A-Deck prepping products and any exterior wood stain. Please include a short description and the Restore-A-Deck product(s) used to prep the wood and to stain the wood using our comment feature at the bottom. There is a link to upload photos in the bottom right corner of the comment area.
We look forward to seeing your newly Restore-A-Deck project!
Please include:
Location of Project (City/State):
Stain Brand Used:
Restore-A-Deck Prepping Method:
The color of Stain:
The number of Coats Applied:
Wood Type and Age:
When using wood restoration and maintenance products like the line of RAD (Restore-A-Deck) cleaners it is important to know how to apply them. One way to apply RAD products like the wood cleaner, wood brightener, or stain stripper is by the use of a pump sprayer. When using a pump sprayer for application be sure to premix the solution in a bucket first before transferring to the sprayer. This will help ensure proper blending.
Read more: Can RAD Products Be Injected Through Pressure a Washer?
Cleaning wood is not rocket science but it does require a little knowledge of the products and methods available. If you are going to restore your own deck then you will certainly be using a wood deck cleaner. There are several types of cleaners out there but the two basic and most commonly used ones are sodium percarbonate cleaners and bleach-based cleaners. There are pros and cons to each type.
Restore-A-Deck (RAD) products are specifically designed for the do-it-yourself homeowner wanting to get professional results. The RAD products were formulated by professional woodcare experts. This easy to use two-step system will make the job of bringing your deck back to life easier and quicker. The RAD products were designed to use with a simple deck brush and garden hose for homeowners whom do not have a pressure washer. A deck brush used with these products will get rid of gray wood fibers, mold, mildew and dirt. With that said if you do have access to a pressure washer it can have great advantages to using with RAD products.
If you do not own a pressure washer you can rent one from a local hardware center. Try to get the one with the highest GPM (gallons per minute). The higher the GPM the faster you will be able to wash. The pressure is not as crucial since you should not clean wood with high pressure anyway. Excessive pressure can cause serious damage to your deck. Damage can differ from raised grain and splinters to wand marks that will show up even more after staining.
Read more: Advantages To Using a Pressure Washer With RAD Products