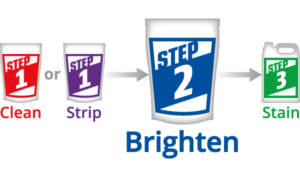 Restore-A-Deck Wood Brightener: The Best Stain Remover for Decks
Restore-A-Deck Wood Brightener is a biodegradable, powdered concentrate that is mixed with water to brighten and restore the natural beauty of all species of exterior wood. This product excels at brightening, removing rust stains, and tannin stains caused by fallen leaves. Restore-A-Deck Wood Brightener is a safe, eco-friendly product that will not only brighten but neutralize the surface of the wood, creating an ideal surface that is ready to be stained.
This product is the perfect complement to our wood cleaning product, Restore-A-Deck Wood Cleaner. We recommend you use this product as part of our comprehensive wood cleaning system.
The Restore A Deck system is a multistep deck cleaning system, and best results are achieved when using all 3 products. This product is step 2 of the Restore A Deck system.
Uses of Restore-A-Deck Wood Brightener
Restore-A-Deck Wood Brightener is intended for use on all types of weathered, exterior wood surfaces including decks, fences, siding, outdoor furniture, gazebos, and playsets.
Recommended for surface preparation prior to initial application of semi-transparent finishes and stains. The product can be used as a cleaner and brightener for redwood, or as a neutralizer to further brighten wood species, like pine, that have been cleaned with Restore-A-Deck Wood Cleaner or stripped with Restore-A-Deck Stain Stripper. For lasting protection of your exterior wood, after using Restore-A-Deck Wood Brightener, treat the surface with Restore-A-Deck Premium Wood Stain.
Note: Restore-A-Deck Wood Brightener is not formulated to remove intact paint, stain, or clear finishes. This brightener is not a cleaner. It will not remove grayed wood fibers. It is meant to serve as a wood brightener and pH balance after using a deck cleaner or stain stripper. The best application for use is after a wood cleaning product.
Restore-A-Deck Brightener is used only with the Restore-A-Deck Stain Stripper. It is not needed for the RAD Paint & Solid Stain Stripper Gel
ADVANTAGES
Neutralizes stain strippers
Brightens and restores wood surfaces
Removes difficult stains created by rust and fallen leaves
Restores pH balance of wood
Powdered formula makes 5 liquid gallons when mixed
Extremely cost-effective. When mixed, the cost is less than $6 a gallon.
Eco-Safe formulas
Improves absorption of wood stains
Safe to use on all exterior wood surfaces, not just decks
Coverage: 750-1000 sq.feet per container.